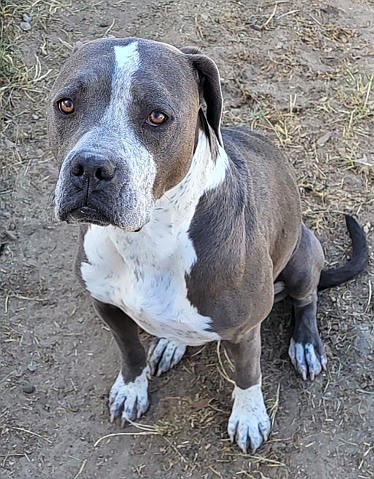 Bellalina is a beautiful 2.5 year old boxer/pitbull mix. She is potty trained, she is sweet, friendly and affectionate. She loves hugging people and playing with toys. She is good with dogs and children. Come out and meet her; she's a cutie.
Dear Reader, Thanksgiving is my favorite holiday because it's about family, cooking, and eating. It is also a time to celebrate gratitude. I'm so thankful we don't have political commercials anymore! I'm sure everyone would agree with me on that.
On this holiday, I will sing the praises of the people who are kind and support our homeless animals. Churchill Animal Protection Society, our local no-kill shelter, has tirelessly advocated for abused and abandoned animals. The volunteers, employees and board members are heroes for animals.
The 12 original members of CAPS (affectionately known as the Dirty Dozen) had a vision that has come to fruition since 1986. At first, CAPS used the old post office, but soon outgrew the space. As the need for accommodation grew, we moved to our current location. The future of CAPS looks brighter as we will eventually have access to a new home thanks to our amazing city and county leaders.
Of course our community deserves a huge shout out for the donations of food, funds, labor and volunteerism. Without you, our mission and treasure chest would be empty.
CAPS would like to thank all the businesses and voluntary "prisoners" who have supported our "Going to the Pound" fundraiser. Of course, we thank everyone who helped save our prized prisoners.
Thanks to: Jolene; Lane mills; Kathy Fraker; J&K Llamas; Caryn; Marjorie Lewis; Rebecca Dugan; Mel Gover; Province Museum; Malko's; Greg Malkovich; Camacho car sales; Lucy Carnaham; Mitch Young; Pizza Barn; Widmer & Associates; CC communication; Cafe Espresso; Mary Sutherland; Sam; Fallen Ford Toyota; Tim Mitchell; John Mulac; Jim & Val; big horn; The village; and spoiled paws; The grid.
The money received will help spay and neuter our current 25 puppies living with CAPS or in foster homes.
Thanksgiving holiday is based on the idea of ​​being grateful and grateful for all that life offers. It is with joy and gratitude that I thank CAPS and all who advocate for them. May your holidays be blessed!
LOOKING FOR A HOME
We have six adorable six month old puppies. There are three girls and three boys.
We also have seven fluffy kittens from 15 to 20 weeks. There are five boys and two girls in a rainbow of colors. All of our babies need foster homes. Call 775-7500 for more information.
IN NEED OF
People who sign up for free money for CAPS with the AmazonSmile program. Black Friday is the perfect time to write in the following data.
Fancy Feast kitten wet food.
Cat litter for the comfort of our guests.
Aluminum cans. We collect your cans; call us at 775-423-7500. You can also hand them in at CAPS.
SHOUT AT
Shannon Miller, the owner of Maggie's Playhouse. She has made it her goal to care for senior dogs. Older abandoned dogs have found shelter with Shannon. November is senior adoption month and we commend Shannon for her kindness and dedication to our dog population.
COME SEE US
CAPS is open to the public on Tuesdays, Wednesdays, Fridays and Saturdays from 10am to 2pm. We suggest appointments for adoptions and food supplies.
DO NOT FORGET
November Holiday: Thanksgiving Day November 24.
Register with the AmazonSmile program, a website operated by Amazon. Customers enjoy the same selection of products, low prices and shopping features as on Amazon.com. The only difference is that when you shop on AmazonSmile (smile.amazon.com), the AmazonSmile Foundation donates 0.5% of the price of eligible purchases to your selected charitable organization.
To receive a newsletter, call 775-423-7500 or email [email protected]
CAPS's mailing address is PO Box 5128, Fallon, NV 89407. CAPS's phone number is 775-423-7500. CAPS' email address is [email protected] Visit the CAPS website (www.capsnevada.com) and Facebook page (Churchill Animal Protection Society). Be sure to "Like" CAPS on Facebook as we are like-able.
Over the Rainbow: If you would like your pet to be remembered, please send his/her name and a brief description to Kathleen Williams-Miller, a CAPS volunteer, at [email protected]